Weekly Staff Netflix Recommendations – 21 July 2016

Staff Netflix Recommendations
Week of July 21, 2016
As of July 21, 2016, all titles listed below are available to stream on Netflix US. Go to moreflicks.com to learn about international availability
Come back each Thursday for new Netflix recommendations!
Images link to title's Netflix page
Read Last Week's Netflix Recommendations
---
The Big Short
Jacob's Netflix Recommendation
There are a select number of movies that take a time and place and recreate it seamlessly. Easy Rider did it for the 1960s American counterculture, Dazed and Confused did it for 1970s high school nostalgia, Jarhead did it for the Gulf War, and now The Big Short has joined that list as a time capsule depicting what it was like to live in the late '00s. The Big Short, a scathing tale of the housing and credit bubble of the 2000s and the people who saw that it was about to burst, is a riotous and infuriating affair. It is of a very finite list of films that can entertain just as much as it informs. Using all of the complex stock-market lingo it needs to, without forgetting to hold the viewers hand a bit, this is the perfect film for anyone who is at all interested in hedge funds or CDOs. It's a kind of intellectual disaster movie in the sense that it hits all of the usual disaster flick cliches, but the fate of the world doesn't hang in the balance as the real threat is our own stupidity. It's a hilarious, perfectly scripted, expertly casted effort that will leave you challenged as well as infuriated.
---
Stranger Things
Pop Culture Aficionado's Netflix Recommendation
ET + The Goonies + Stephen King, all dipped in hot-stew of 80's Sci-fi Nostalgia? Sign me up!
Fitting, after my recommendation last week of John Carpenter's classic Big Trouble in Little China, that this week the internet is buzzing with positive reactions to this Netflix original series. With an awesome 80's Synth score that just screams classic Carpenter, this series is everything that 2011's Super 8 promised to be. A small town in middle America, a sinister plot, things going bump in the night, and a likable group of young friends. Expect to continue hearing rave reviews for this one, and hopefully the announcement of a second season.
---
John Mulaney: New In Town
Hunter's Netflix Recommendation
Despite having only released two specials, John Mulaney is one of the funniest stand-up comedians in the business today. Watching one of his specials is experiencing an hour of nonstop hilarity and wackiness, all coming from material which is simple to comprehend and an absolute joy to listen to. His humor doesn't come from especially insightful or biting commentary, but rather a series of anecdotes which are full of levity and are delivered with limitless expression and animation. "New in Town" is, in my opinion, the funnier of Mulaney's two specials, with jokes ranging from intimidating eighth graders and 1930's bank robberies to watching hours and hours of Law and Order reruns. And if you enjoy this one, Mulaney's other special, "The Comeback Kid," is available on Netflix as well, and is also extremely enjoyable.
---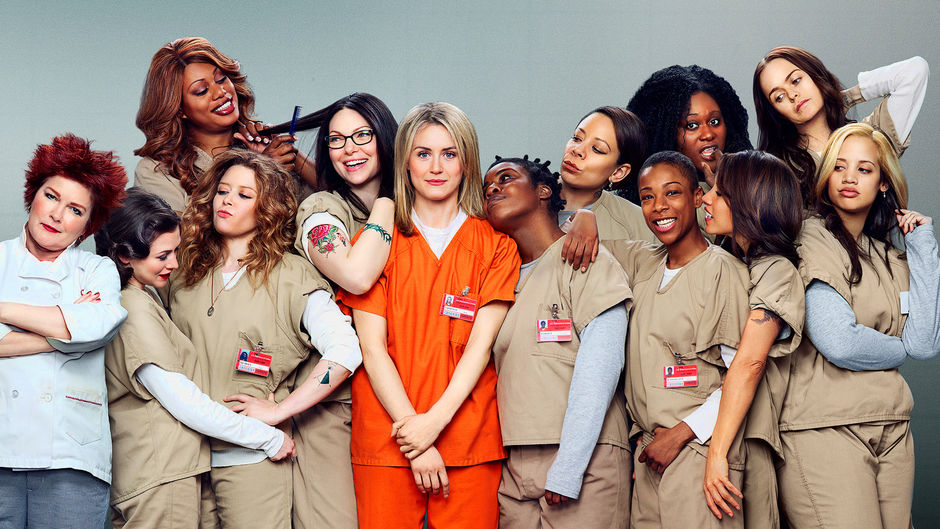 Orange is the New Black
Ghezal's Netflix Recommendation
The latest season (Season 4) of Orange is the New Black has been my favourite of the entire series thus far. This season not only had both the dramatic tear-jerker moments we've experienced from the series and the lighter moments that make us laugh hysterically while managing to pull out an "awwwww!" They explore various themes and issues that are heavily prevalent in our lives today, from the over-crowdedness of the prison system to the very real and heartbreaking effects of mental illness. While occasionally dipping their foot into the pool of absurdity this season, the development of these characters from Season 1 until now is a beauty to watch. If you have a weekend free, binge on all four seasons and you will most certainly have an opinion on whether you're a diehard Piper Chapman lover (I am guilty of this!) or you want to see her away from everyone on the show.
Also Read: New Releases to DVD and Blu-ray – 21 July 2016
Come back next Thursday for More Recommendations!
Comments
comments